Wardrobe Must Haves For Autumn.
Posted on September 09 2017
As a new season rolls around, we all get to do our favorite thing: Shopping. Shorts are great and all, but after a season of shaving our legs we are sick and tired of it! It is finally time for us to pull out our favorite jeans and everything that comes with them! I will always hold the sun and surf close to my heart, but autumn is my favorite season by far. The leaves are changing, temps are dropping, holidays are coming, and so much more. There is nothing that doesn't make me smile this time of year. Except maybe school. But that's a different issue all together. Bottom line, I am thriving and I want you guys to thrive with me.
I have compiled a short list of my wardrobe must haves for this upcoming season to help my fellow girls out. These are wardrobe basics and I believe every girl should have at least one of these items in her closet.
---
The Army Jacket.
http://www.gap.com/browse/product.do?cid=5739&pcid=5736&vid=1&pid=837383002
My army jacket is by far my most precious item in my entire wardrobe. This is an item that I have had in my closet for years and I have yet to grow tired of it. Being in my favorite color, this jacket is light enough for those bi-polar weather days and perfect for layering. Greens are typically very hard to style but this shade always seems to fit just right with everything. Pair this with jeans, a burgundy shirt, and maybe some brown ankle boots and you're on your way.
Of course, where you purchase your jacket will determine how much you pay. You can find ones for as low at $40, but they can easily top off over $100. Whatever you pay, you won't regret it. A jacket like this is worth every dollar. Plus you can make it your own by sewing on patches.
The Perfect Pair.
https://www.zara.com/us/en/woman/jeans/high-waist/high-waist-jeggings-c733921p4678019.html
A classic for a reason, no one can go wrong with a new pair of jeans. Currently, I am loving the whole high waisted vibe they've got going on. With a pair like these, I can still wear my favorite summer crop tops well into the autumn months. And the fact that they are jeggings? Oh, thats my favorite part. They are much more forgiving than jean material. As a girl whose hips are one size and her thighs another, jean shopping becomes a real hard task. Typically in stores, I could never find a pair that fit both my thighs and hips. But with jeggings, I no longer run into that issue.
These pair of jeans are from Zara in particular and they are fantastic. I recently bought two pairs from them and they are perfect. Not only were they delivered quickly, but their pricing is something you can't pass up. They have jeans for as low as $25 and you won't be disappointed.
 The Best Bootie.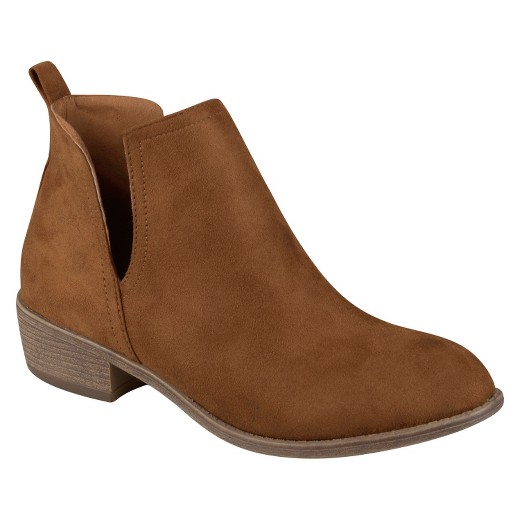 https://www.target.com/p/women-s-journee-collection-rimi-round-toe-faux-suede-bootiess/-/A-51436285#lnk=sametab
In any neutral shade, some cozy ankle boots will become your favorite go-to shoe. The pair that I currently own closely resembles these here and I am in love. I have had those shoes for years and the wear and tear is clearly visible. One can never go wrong with having too many neutral colored shoes. They are easy to style and easy to pair with any outfit. They will definitely be worth the money whether it is a lot or a little. You could even have some fun with the type of socks you wear during the holiday season.
Although Target it great for shoes, sometimes the best finds are in your local stores. Do what is most convenient for you to find that perfect pair. I personally love to hit up a local boutique that fits my style.
A Touch of Flannel.
https://www.francescas.com/product/katina-frayed-plaid-ruana.do?sortby=ourPicks&refType=&from=Search&ecList=6&ecCategory=
Last but not least, we all need at least one thing that is plaid. I know it can be kinda tricky buying flannel that fits you: I have had the trouble myself. But when I saw this, I knew I had to have it. With this style it feels almost as if you're throwing a blanket on yourself to go outside. Who doesn't want to walk around with a blanket-like item all day? It feels like you're right at home! This is very baggy which makes it forgiving and is just the plaid item to make your autumn wardrobe complete.
If you wanted this same look but not the same price tag, you could also use a flannel blanket scarf as well! Just wrap it around yourself like a blanket and you're good to go! Again, this all depends on where you purchase your item and I personally think this one from Francesca's is a steal.
---
If I wasn't excited for autumn before I definitely am now. What do you love most about autumn? Is it the clothes? The holidays? Or the Pumpkin Spice Lattes? Let us know on our most recent Swim Szn Instagram post! We love hearing from you all.
Now there is nothing left to do but to get shopping.
XOXO,
Annie.
Instagram: @itsbreannac